Welcome to ROFFA
Rotterdam Open Festivities For All
We are very excited to welcome you to Rotterdam University of Applied Sciences (RUAS). To celebrate this, we organise a special intorduction programme for all new international students called: Welcome to ROFFA. Besides the link to our lovely city, ROFFA stands for Rotterdam Open Festivities For All 🥳
We are the Centre of International Affairs and each year we welcome more than 1000 international students, so this is the perfect opportunity for you to meet your fellow students! We believe that, besides the administrative part, the social part plays a very important role.
Our international students receive a personal invitation for these international introduction days. These days take place prior to the general introduction of your programme. During the general introduction days (STARTWEEK) you will get to know your coach, classmates and schedule.
Get to know your new home in the meantime...
Social activities February
In February we welcome a cohort of exclusively Master students and Exchange students. Our programme is catered to more indoors activities. Keep an eye out on your email to stay informed about the activities we are putting on for you!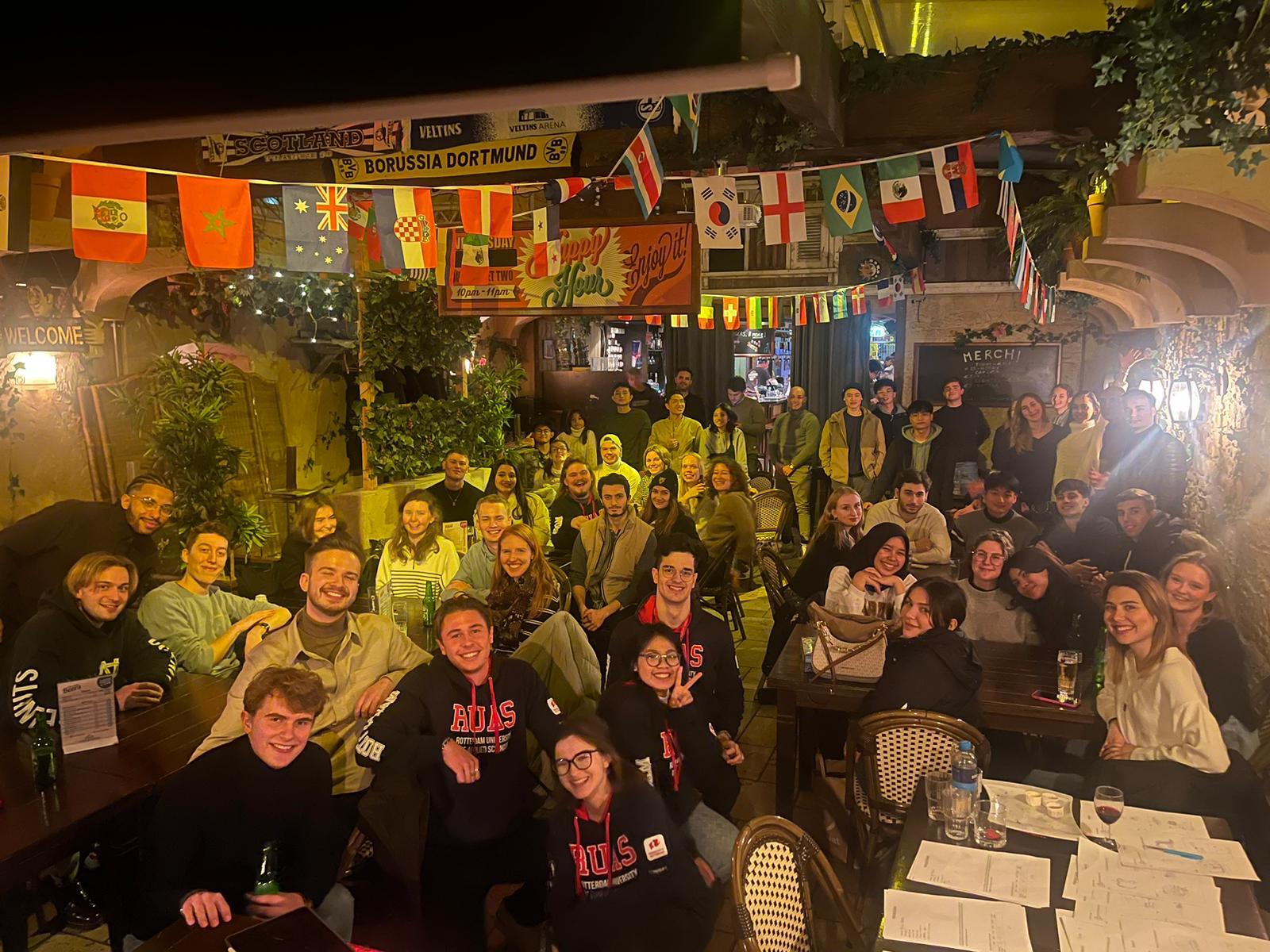 When do you need to be here?
February 2024 Intake:
The introduction dates for the February intake will be communicated and confirmed at the end of December. The official introduction programme will be sent by e-mail, please take a look at your inbox to find the full overview of the activities.
For more information, you can contact our Intro team: coia-welcometoroffa@hr.nl
September 2024 Intake:
The Welcome to ROFFA programme will take place end of August. The Centre of International Affairs of the Rotterdam University of Applied Sciences organises activities that are for all new international students. The kick-off of the programme will be at the end of August and it is mandatory to attend the Welcome to Rotterdam presentation.
Detailed information about the programme and social activities will be e-mailed in mid-July. For more information, you can contact coia-welcometoroffa@hr.nl .
How to get from Schiphol to Rotterdam?
Unfortunately, we are unable to offer a bus pick up service. We apologise for this but hope through clear communication and tips we can get you from the airport to your new home of Rotterdam easily!
Take a look at this reel, where our Student Ambassadors show you how to get from Airport Schiphol to Rotterdam Central Station.
How to get to Rotterdam Central Station?
Buy a train ticket from the yellow machine

Intercity direct is the fast train and it will get you to Rotterdam in 26 minutes. Make sure to buy the €2,90

supplement

as well!
NS only ticket is the normal train and it will take you about 50 minutes to get to Rotterdam. You don't need to buy the supplement for this journey.

Take the escalator or lift downstairs
Board the train either from platform 5 or 6, the correct platform will be visible on the screen.
Useful travel apps
The dutch transportation system is very easy to navigate with these apps: 9292.nl and the NS app.
Invitation introduction
Specific invitation
All students, Bachelor, Master and Exchange who are going to study at our University of Applied Sciences will get a specific invitation for the introduction per programme via e-mail.
Student Support
Need a Dutch mobile phone number?
The Centre of International Affairs has developed two solutions for you if you would like to get a Dutch phone number. You might ask, what's the need of getting a Dutch number? After arriving in the Netherlands, you will notice a Dutch phone number is necessary for a couple of things, such as opening a Dutch bank account and creating your DigiD account, which gives you access to many services offered by the Dutch government. If you are planning to get a (part-time) job in the Netherlands, it will also be important to have a Dutch phone number so that companies and recruiters can easily contact you by phone. Below are two options for the phone number for you:
Pay-as-you-go SIM Cards - Lebara
CoIA has a stock of pay as you go SIM cards from provider Lebara, these SIM cards are located at the CoIA front desk and can be picked up during introduction week or anytime during the year.
Pay Monthly - Expat Mobile
Our Student Association, RISA, in association with CoIA offers international students Expat Mobile. This service has multiple options for students on a pay-monthly basis with also different contract lengths depending on whether you are spending a semester here or more. For more information on Expat Mobile please follow the link: