The Lean Library browser extension
Lean Library is an extension for your web browser. When you install it, your browser gains extra functionality that comes in handy in your search for information. In short: you get easier access to relevant information and less frustration in dealing with paywalls and login screens. Lean Library offers the following advantages:
On campus you usually have automatic access to many databases. Outside of campus, you have to login first. The Library Access extension knows what databases you have access to and will log you in automatically if needed. Nifty!
| | |
| --- | --- |
| ❌ Without Lean Library | ✔️ With Lean Library |
| You arrive on a database and have no idea whether you have access and how you can login. | Lean Library notices you are using a database from the library and gives you access! |
Sometimes one database only contains an abstract, while the another has the article in full. Lean Library will give you a link to that database right away! This can be an Open Access source, or a different library database.
| | |
| --- | --- |
| ❌ Without Lean Library | ✔️ With Lean Library |
| You only find an abstract of an article; you have to pay for the full-text version. | Lean Library checks if the full-text is available anywhere for free and gives you the link! |
Google Scholar
Lean Library makes sure the library link is active in Scholar. Because of that you won't just get Open Access links but also "Find@Hogeschool Rotterdam" links in the search result. This improves your chances of getting the full-text article.
Pubmed
In PubMed a

button will appear on every article page. With this button you can search in START for the full-text or request it via IBL.
Articles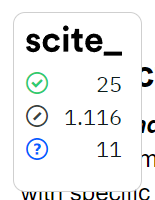 When you read an article in HTML format, an scite_ block will appear to the left in your browser. The numbers that are displayed give an indication of how important and/or reliable an article is.
Please note: the library doesn't have a subscription on scite_. It's therefore not possible to read the referring articles on scite.ai.
When an article cannot be obtained directly, Lean Library will give you a link to the ILL request form of the library. This way you can request an article and you will receive it later in your mailbox. This service isn't free for students, but at least it's cheaper than ordering it directly from the publisher.
| | |
| --- | --- |
| ❌ Without Lean Library | ✔️ With Lean Library |
| The article you need costs >35 euro to read in full. | You receive the article by e-mail via the library for a small fee! |
When Lean Library detects an ISBN of a title that the library has an e-book of, you will get a link to that e-book. This way you won't buy books unneeded when a library e-book suffices. Also you will receive a link when we have a (better) alternative website for the one you're currently using.
| | |
| --- | --- |
| ❌ Without Lean Library | ✔️ With Lean Library |
| You search on the chamber of commerce website for company data, but you don't get access. | You waste no time searching elsewhere, because Lean Library suggests you use company.info to obtain financial information. |
Setup Lean Library
in a few clicks
After installation, do this:
Choose "Hogeschool Rotterdam" in the Institution drop down menu.

That's it!

You can find more info about the other configuration options at Details > Settings below.
How does it work?
Green light
This browser extension displays an icon in the browser toolbar. This sort of works like a traffic light. When this icon is green (

), you are logged in. When the icon is grey (

), it's inactive. Is it yellow (

), then the extension has a message or tip for you. Via the popup window you can login to databases, open e-books and view or request articles. When you haven't logged in yet, you are send to the Rotterdam University login page, or SurfConext.
Only for access
The main purpose of this extension is to give you access to information. Getting your search strategy right and processing information is still your responsibility.
Settings
Quick Settings
In the Settings (gear icon) you can find the following options:
Your institution: Select "Hogeschool Rotterdam" here. Normally you can't use the profiles of other libraries.
Add extra institute: when you work or study at another school or university, you can add it here (when available).
Text size
Floating button position: optional floating button for accessing the extension.
Show timer and close extension automatically: Popup messages close automatically. You can turn this off if you want.
Notifications: Don't want certain notifications? Your can configure it here.
Integrations: Turn scite_ buttons on or off.
Advanced Settings
Do you find certain popup messages distracting? In advanced settings you can select what you want to see and what you don't. Also you can disable the scite_ and ToC buttons if you want.
What about my privacy?
You are anonymous
You can use the Library Access extension completely anonymously. The extension doesn't gather personal information. It also doesn't store your IP address or the unique identifier of your computer.
Other methods
Access to databases
Of course, even without the extension you can get access to our databases from home. Go to the database overview for this. Hint: use the filter options to limit the list to the type of information you need.
Access to the full-text article
Apart from the full-text functionality that the extension has, you can also contact the author of an article. When you ask politely, they will often send you the (pre-publish) full-text version of an article. When you can't find an e-mail address, try the following: