Are you writing a paper and do you want to keep things organized? Use EndNote! EndNote is bibliographic software with which you can collect scientific articles and maintain a reference list. It supports over 500 reference styles, including APA and MLA. With the included addon you can insert these automatically in Word.
Installation
Get EndNote 20 + EndNote online premium for free
On Rotterdam university devices
EndNote is available on Rotterdam University issued workstations, notebooks and tablets. Go to Startmenu ➡ Liquit ➡ EndNote 20.
On your own device at home
Download & install EndNote 20 on your device
EndNote configuration & usage
For optimal use, we recommend the following settings (at Edit ➡ Preferences...) :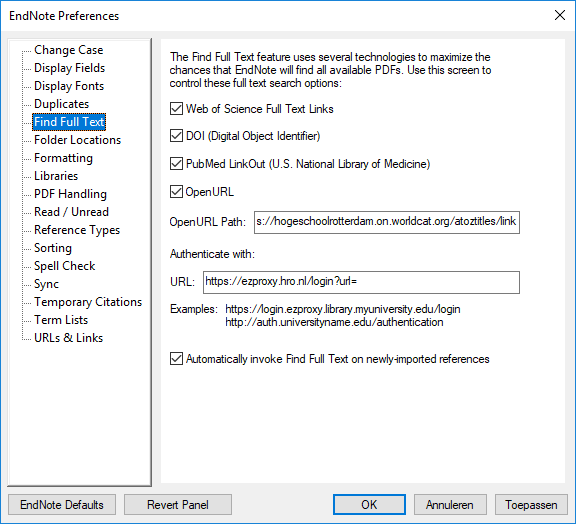 At

Find Full Text

:

For "OpenURL Path" input: https://hogeschoolrotterdam.on.worldcat.org/atoztitles/link
For "URL" input: https://ezproxy.hro.nl/login?url=

At

Sync

: Click on the "Enable Sync" button and enter your EndNote Web login, or create a new account. In this way you can synchronise your EndNote library between various installations.
Installing the APA bibliographic style
After installing EndNote you probably need to download the "APA 6th Nederlandse editie"-style. This is the style that most educations require you to use. A download link and instructions can be found here on the EndNote website.
Manual
We have prepared a manual that shows you how to use EndNote in combination with various databases and our discovery tool.
Download the installation & configuration manual
Official Clarivate guides for macOS and Windows
The publisher offers guides and instruction video's on how to use EndNote on Windows and macOS.
Go to the guides section
EndNote 20 quickstart for Windows
EndNote 20 quickstart for macOS