Facts and figures
The programme at a glance
€ 2,314 (EU/EEA), €12,688 Non EU *Sept & Feb intake
Part of School
Programme structure
A view of the study programme
The Competencies
The competencies that you will gain during the master programme will teach you how to properly address the demands of the business community and prepare you to navigate within a rapidly changing global business environment.
The competencies that you will obtain:
Competency 1: Holistic Approach
A Master in International Supply Chain Management takes a holistic approach of the International supply chain, recognising the interdependencies of the various activities involved both internally and externally.


Competency 2: Operationalisation of strategic vision
A Master in International Supply Chain Management translates and aligns the company's strategic vision and operationalises and communicates this strategic vision with regards to logistics & supply chain issues such as: customer service, sourcing, production, planning, transportation, distribution, technology, ethics, environmental responsibility and sustainability.


Competency 3: Maximisation of value
A Master in in International Supply Chain Management analyses opportunities and related costs, performance and risks to make well founded decisions with regards to leading and managing logistics and the supply chain. Capitalises on changes and trends in both the internal and external environment, as well as develop relationships and networks.


Competency 4: End to end optimisation


A Master in International Supply Chain Management organises, governs and improves logistics systems using balanced performance measurement based decision-making to support organisational goals. Manages processes and responsibilities within an organisation. Identifies and influences key stakeholders inside and outside of the organisation to drive supply chain initiatives through to completion.
Curriculum
The Master International Supply Chain Management is a one-year full-time programme which guides students to make the link between understanding the fundamental supply chain management concepts, tools and techniques and to apply them effectively and successfully in real-life situations. We practice a genuine "Rotterdam hands-on and make-things-happen" approach which is our distinctive strength. An internationally-diverse and still active practitioner team of lecturers ensures that the teaching content and methods critically reflect reality.
We have designed an applied-based programme with a strong emphasis on holistic evidence-based problem-solving which is practised in class following the experiential learning model and executed in practice with extensive group work in highly diverse teams. The MSC programme is structured to provide students with the opportunity to immerse themselves in four learning stages; strategize, operationalize, perform and lead. The year is split into two semesters, within each semester there are 2 blocks, so 4 blocks within the year.
The programme culminates with the Master Thesis - the final and ultimate deliverable of the programme – which demonstrates the proof that the student has reached a master level of all the programme competencies.
Subject overview
A breakdown of the programme and subjects within specialisation you will experience are shown below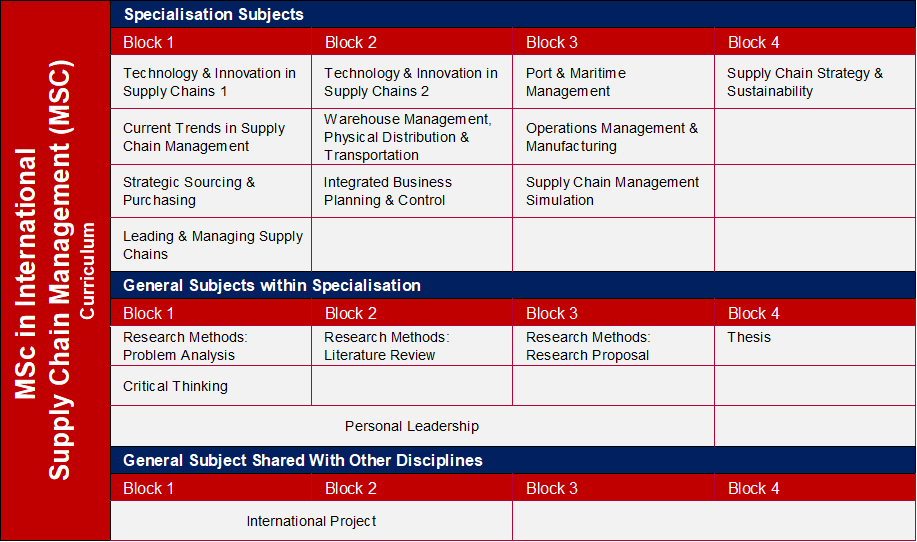 Subjects
The modules for this year
Block 1
Technology & Innovation in Supply Chain 1
Current Trends in Supply Chain Management
Strategic Sourcing & Purchasing
Leading & Managing Supply Chains
Research Methods: Problem Analysis
International Project
Critical Thinking
Block 2
Technology & Innovation in Supply Chains 2
Warehouse Management, Physical Distribution & Transportation
Integrated Business Planning & Control
Research Methods: Literature Review
International Project
Block 3
Port & Maritime Management
Operations Management & Manufacturing
Supply Chain Management Simulation
Research Methods: Research Proposal
Block 4
Supply Chain Strategy & Sustainability
Thesis
After your study programme
Different possibilities
After your graduation
Congratulations! You just finished your Master in International Supply Chain Management and will receive the title Master of Science (MSc).
With your degree, you will receive a supplement, a DS-label. With this English document, you can show the value of your degree abroad when applying for other study programmes, when applying for a job or looking for the next step within a company or organisation.
Profession
The Masters in International Supply Chain Management will give you access to more career opportunities and senior positions in areas of supply chain management, logistics, warehousing and sourcing & procurement via the following skillset:
Perform evidence-based strategic decision making in supply chain.
Assess and manage supply chain risk to create supply chain resilience.
Manage the supply chain while making effective use of relevant business and supply chain planning tools with end goal the maximization of value.
Practice supply chain project management and problem solving in real companies.
Master to effectuate both group and independent supply chain applied research projects.
Focus on supply chain sustainability strategy, technology & innovation, and port & maritime management.
Practical information
What you need to know
Location Kralingse Zoom
Where you can find us



Kralingse Zoom
Kralingse Zoom 91
3063 ND Rotterdam