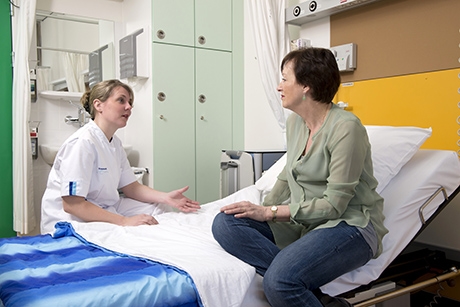 In a dual approach, this program aims to (1) enhance (the effectiveness of) self-management support provided by nurses to people with CC; (2) improve nurses' competencies and nursing education in this regard. The ultimate aim of the program is excellent care provision. The two research themes are theoretically guided by the Framework Self-Management (adapted from the Chronic Care Model) and the Five-A's Model.
Theme 1: effectiveness of SMS interventions
Theme 1 follows the steps of the Intervention Mapping Approach to develop tailored SMS interventions in close collaboration with the nurses who are to use these. This starts with exploring needs, experiences, and best practice examples of SMS interventions as applied by nurses in Erasmus MC through interviews; by collecting evidence from different angles: through a realist review of the literature focusing on the effectiveness of a selected number of interventions (1.2) and by conducting a qualitative synthesis to elicit experiences with SMS of patient groups treated in the NURSE-CC Labs (1.3). Subsequently, focus group discussions with patients and nurses from the NURSE-CC laboratories will help select interventions (1.4). The results of the previous projects will be translated into specific "change objectives" and used for intervention development for specific target groups, and for the development of a common evaluation framework across the NURSE-CC labs. Effects of the implementation of tailored SMS interventions will be evaluated through a controlled cluster trial. The interventions in the NURSE-CC Labs will be evaluated before and after implementation on both patient and the professional level, and outcomes will be compared with those of the control departments where ordinary care will be provided. A mixed methods design will be employed (1.5).
Theme 2: nurse attitudes & competencies
Nurses' attitudes and preferences toward SMS will be explored in a Q-methodological study (2.1) to reveal different attitude profiles. A ´Body of Knowledge & Skills for SMS´ (BOKS-SMS; 2.2) will describe the required knowledge, attitudes and skills for SMS in nursing professionals of levels 4, 5 and APN. Through a Delphi study, consensus on the BOKS-SMS will be reached. Using the BOKS-SMS and SMS-profiles, attitudes and competencies of nurses working in Erasmus MC will be explored though a repeated survey and structured observations (2.3). A scan of existing curricula in nursing educational programs in Rotterdam area (2.4) will be performed. The BOKS-SMS will be supplemented with a Tool-BOKS-SMS (2.5) containing practical instruments and tools for nurse educators to reform their education.