Facts and figures
The programme at a glance
September - January or February - June
Part of School
Programme information
What to expect
About the programme
One semester (30 ECTS) is divided into two blocks. Some courses are only offered in block 1 or 2, others will run throughout the entire semester. An overview can be found below: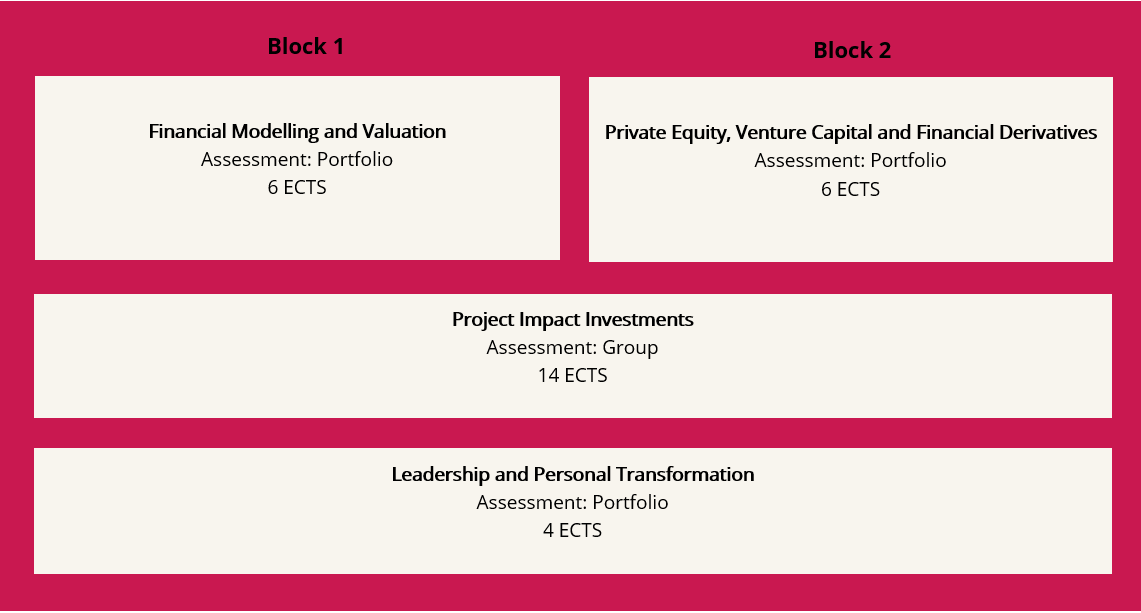 Method
The way we work and assess within this programme: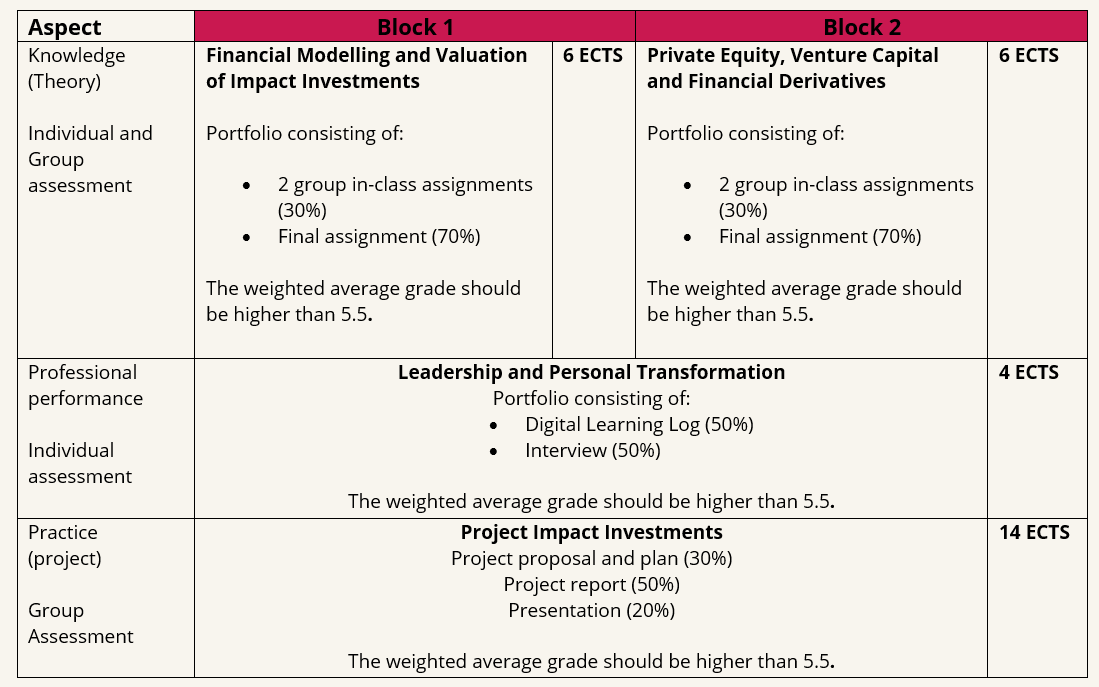 Learning outcomes
If you have successfully completed this exchange programme then you are able to:
Asses, in a complex field of stakeholders, the impact of the investors and their portfolios beyond its financial performance so it contributes to the transition of society and creates value for people, nature and direct stakeholders;
Apply key valuation concepts, frameworks, models, value drivers, obstacles and insights in impact investing and explain how this differs from the traditional investing;
Own your achievements and disseminate your knowledge on various platforms such as the Impact Cafe of Blue City;
Possess sound research skills as evidenced in a transparent and systematic collection and analysis of data, reporting of research and findings and critically evaluate the credibility of your research;
Demonstrate problem-solving skills in creating a feasible recommendations for an Impact Investing project;
Discover full potential as a human being and as responsible, global citizen who is aware of the boundaries of our planet;
Act as change-agent for a zero-carbon economy and a safe space for humanity within planetary boundaries.
Calendar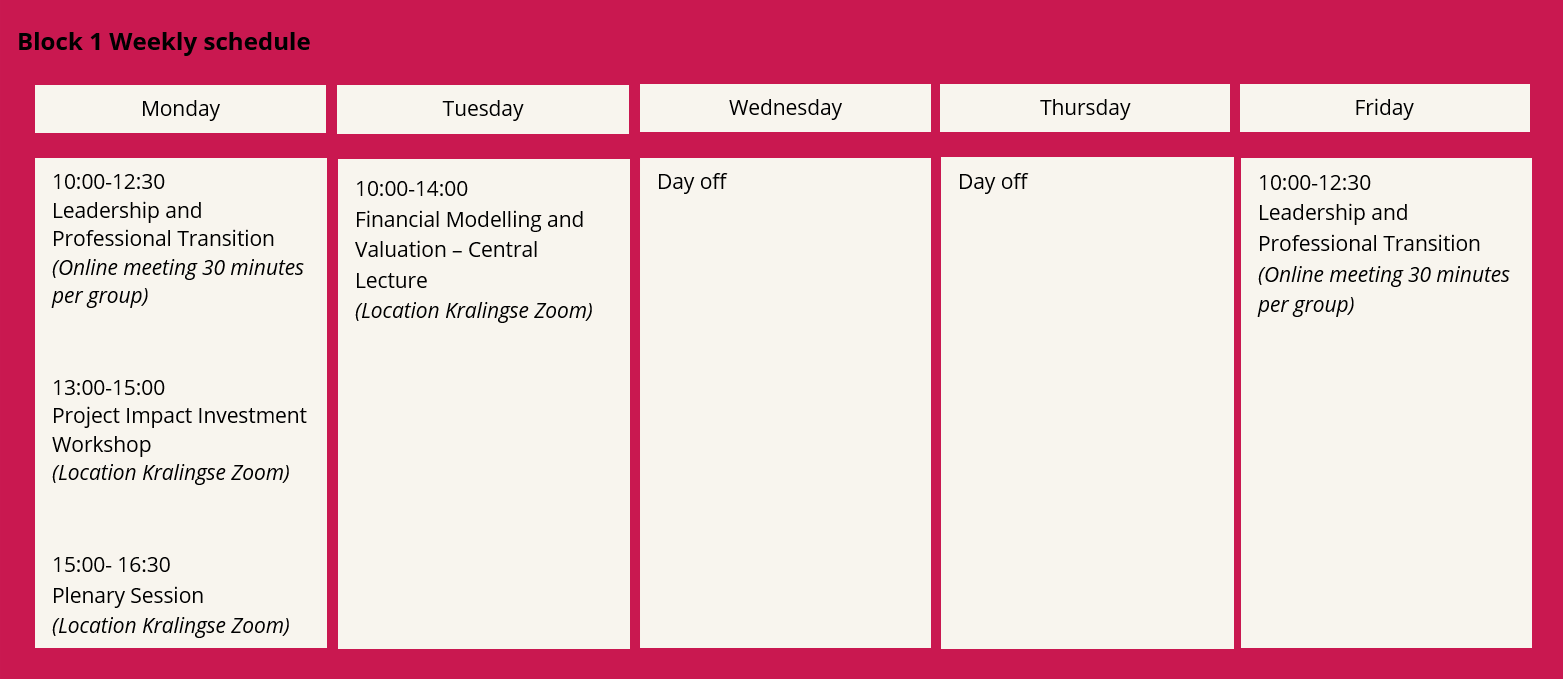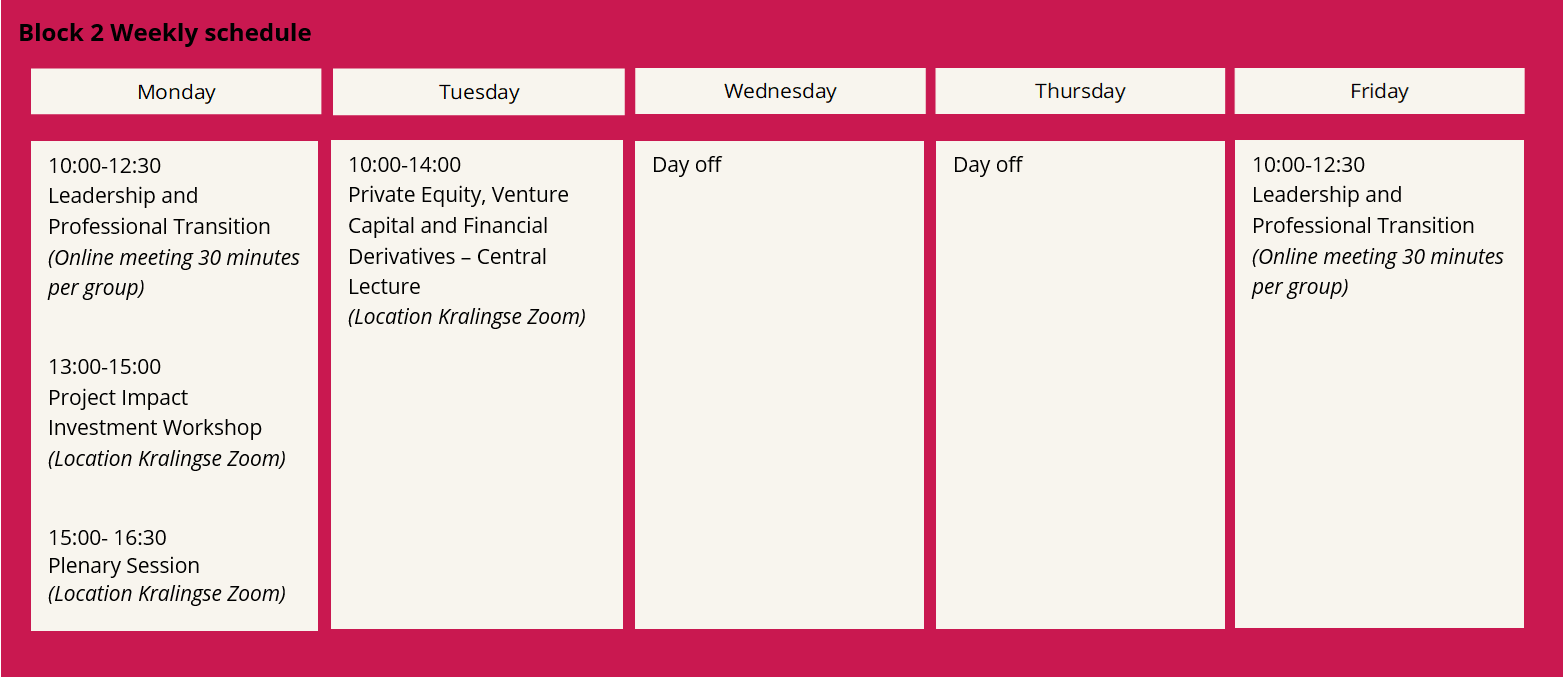 Awarding
After completing your exchange programme at Rotterdam University of Applied Sciences, you will receive a:
Subjects
An indication of the subjects you can expect
Block 1
Financial Modelling and Valuation (6 ECTS)

Financial Modelling and Valuation (6 ECTS)

Topics

Valuation of Stock and Bonds
Investment Structuring
Portfolio Management

Learning materials

"Damodaran on Valuation: Security Analysis for Investment and Corporate Finance", A.Damodaran. (2006). Willey ISBN: 978-0471751212

Learning outcomes

At the end of this course you are able to:

Assess visibility of the investment proposal;
Determine the equity value of the company;
Create forward looking financial statements and free cash flow to equity and justify assumptions about growth rates, capital turnover and long-term growth;
Estimate risk-free interest rate, market risk premium, equity beta, unlevered beta and cost of capital;
Determine value of equity using Adjusted Present Value and Weighted Average Cost of Capital methods;
Justify market assumptions and reconcile valuation with current market price.

Type of assessment

Two group in class assignments (30%)
Individual Assignment (70%)

Project Impact Investments (14 ECTS - block 1 & 2)

Project Impact Investments (14 ECTS - block 1 & 2)

Topics

Varies, assignments are provided by the companies

Learning materials

This depends on the type of project.

Learning outcomes

At the end of this course you are able to:

Apply research skills as evidenced in a transparent and systematic collection.
Demonstrate problem-solving skills in creating a feasible recommendation for a client.
Own your achievements and disseminate your knowledge on various platforms.

Type of assessment

Group project proposal (30%)
Group project deliverables presentation (20%)
Group project deliverables report (50%)

Total number of ECTS (block 1 + 2)

14 ECTS

Leadership and Professional Transformation (4 ECTS - block 1 & 2)

Leadership and Professional Transformation (4 ECTS - block 1 & 2)

Topics

Introduction: Leadership models and the IDGs
Being: Self-awareness
Being: Inner compass (values and purpose)
Being: Honesty and Authenticity
Thinking: Complexity Awareness
Thinking: Perspective Skills
Thinking: Futures

Learning materials

Various articles

Learning outcomes

At the end of this course you are able to:

Identify

necessary tools to embark on your learning and transformation journey, empowering you to become an investor or entrepreneur who can make a positive impact in the future.

D

iscover your full potential as a human being and as a responsible, global citizen who is aware of the boundaries of our planet.

Type of assessment

Individual Learning Log (50%)
Individual Interview (50%)

Total number of ECTS (block 1 + 2)

4 ECTS
Block 2
Financial Derivatives, Private Equity and Venture Capital (6 ECTS)

Financial Derivatives, Private Equity and Venture Capital (6 ECTS)

Topics

What is entrepreneurial finance, how does it work, and how does it differ from standard corporate finance
Entrepreneurial finance process; deal flow, due diligence, valuation and contracting, involvement, and exit.
Advanced valuation issues, more specifically with real options that comprise the use of derivatives in a capital budgeting context.

Learning materials

"Project Valuation Using Real Options: A Practioner's Guide",
Kodukula, P. & Papudesu, C., 2006, J.Ross Publishing. ISBN: 9781932159431

Learning outcomes

At the end of this course you are able to:

Apply option pricing models, in particular binominal option pricing, risk neutral pricing and the Black & Scholes model;
Apply option analysis to Real Options;
Understand the economics of financing entrepreneurial companies;
Identify the goals and constraints of different providers of entrepreneurial finance.
Assess contractual agreements ('Term Sheets') and how they affect company valuation.
Understand the financial issues in an Initial Public Offering, and how prices are set in an IPO.

Type of assessment

Two group in class assignments (30%)
Individual Assignment (70%)

Project Impact Investments (14 ECTS - block 1 & 2)

Project Impact Investments (14 ECTS - block 1 & 2)

Topics

Varies, assignments are provided by the companies

Learning materials

This depends on the type of project.

Learning outcomes

At the end of this course you are able to:

Apply research skills as evidenced in a transparent and systematic collection.
Demonstrate problem-solving skills in creating a feasible recommendation for a client.
Own your achievements and disseminate your knowledge on various platforms.

Type of assessment

Group project proposal (30%)
Group project deliverables presentation (20%)
Group project deliverables report (50%)

Total number of ECTS (block 1 + 2)

14 ECTS

Leadership and Professional Transformation (4 ECTS - block 1 & 2)

Leadership and Professional Transformation (4 ECTS - block 1 & 2)

Topics

Introduction: Leadership models and the IDGs
Being: Self-awareness
Being: Inner compass (values and purpose)
Being: Honesty and Authenticity
Thinking: Complexity Awareness
Thinking: Perspective Skills
Thinking: Futures

Learning materials

Various articles

Learning outcomes

At the end of this course you are able to:

Identify

necessary tools to embark on your learning and transformation journey, empowering you to become an investor or entrepreneur who can make a positive impact in the future.

D

iscover your full potential as a human being and as a responsible, global citizen who is aware of the boundaries of our planet.

Type of assessment

Individual Learning Log (50%)
Individual Interview (50%)

Total number of ECTS (block 1 + 2)

4 ECTS
Practical matters
What you need to know
Location Kralingse Zoom
Where you can find us



Kralingse Zoom
Kralingse Zoom 91
3063 ND Rotterdam