Facts and figures
The programme at a glance
September - December or February - June
Part of School
Programme information
What to expect
About the programme
The programme #GetConnected has roughly two tracks; communication about societal issues from an organisational and PR point of view, and bringing about change from the point of view of the grassroots, i.e. activist communities.
These two tracks are divided into 4 modules, eMagazine 1 and 2, Building a Community and Skills.

Building a Community
1. Community management
As the title of this module already indicates, you will work as a community manager during this programme. Together with three other students you will form a Community management team (CMT).
You start a community based on a theme related to a Sustainable Development Goal you are enthusiastic about (e.g. gender equality, clean oceans, zero hunger). You will do thorough research to understand your target audience and its needs. You define the name of you community, its goal and its corporate branding. You create a corporate visual story, fitting content and execute a guerilla marketing action to promote your community.
2. Workshops
You will participate in several workshops. In these workshops you have the opportunity to gain additional knowledge, inspiration and experiences to make your community successful.
Field trip (not mandatory)
To experience how international organisations in the field of PR work, we will also take you on a field trip to London. You will visit inspiring and innovative agencies and organisations, and meet students from our partner university while working together on a small assignment. Of course you will also have plenty of time to get to know this amazing city.
eMagazine part 1 and 2
During the programme you create an eMagazine in a team with 3 other students. You will write and design your eMagazine for PR professionals who want to gain more knowledge about activist communities and want to learn how to collaborate with them in order to consolidate their license to operate. The eMagazine spans two modules. Each module has its own theoretical framework and topics. The focus of the eMagazine modules is on the mutual influence of PR, media and activist communities.
Skills
This module serves to support the assignments of the other modules.
In order to create a visually appealing and interesting community platform and eMagazine, we are convinced you need specific skills.
These skills are:
Write in correct English;
create coherent and appealing designs.
Through workshops and consults on these specific topics we trust you will leverage the newly gained knowledge to produce a fantastic must-read eMagazine and create engagement with and compose dazzling content for your community.
Method
Building a Community
The first 4 weeks of the programme focus on starting a community. You will attend several theoretical and practical sessions in order to give you enough knowledge to build your community. After these four weeks you will keep on building the community by organising a guerilla marketing action to let the world know you exist and by making and posting content. Every week you have a consult with your supervisor to discuss the progress.
eMagazine part 1 and 2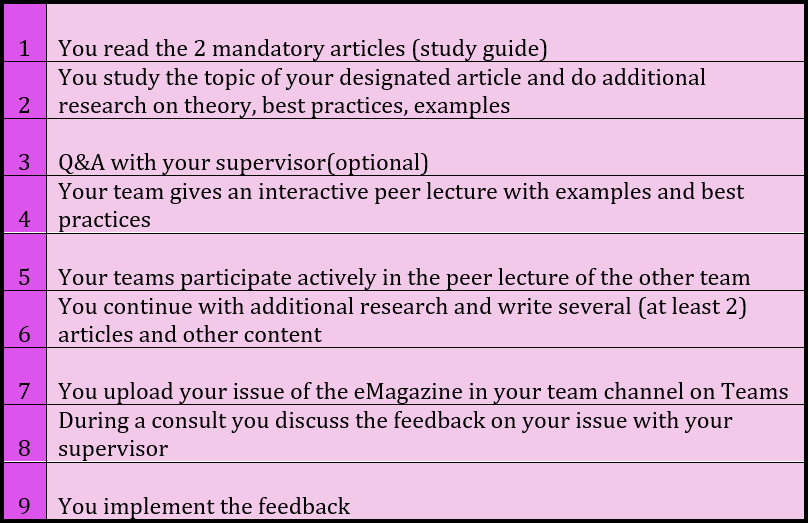 Starting in week 5 you form a new team (so you get to know a lot of your classmates pretty well), the eMag team. With this team you prepare and give a weekly peer lecture about an assigned topic related to PR, activism and the media. This peer lecture is based on two academic papers which also form the basis for the 7 issues of the eMagazine that you write. Every week you have a consult with your supervisor during which you will receive feedback on the written issues.
Skills
InDesign
For eight weeks you will have an introductory InDesign course of two hours per week. During these lectures you will individually create a design for the eMagazine.
English
For the non-native speakers we offer a crash course English. An English grammar refreshment class and a Tips and Tricks workshop are planned, besides an individual consult about an article you have written.
Type of assessment
Presentations
Group assignments
Individual assignments
For more information, see the seperate module descriptions on this page.
Learning outcomes
There are no overall learning outcomes for this exchange programme. Please find the learning outcomes for each module under the section Modules on this page.
Calendar
NOTE: Spring 2024 calendar will be published mid-October. To get an impression, please see the Fall 2023 calendar below.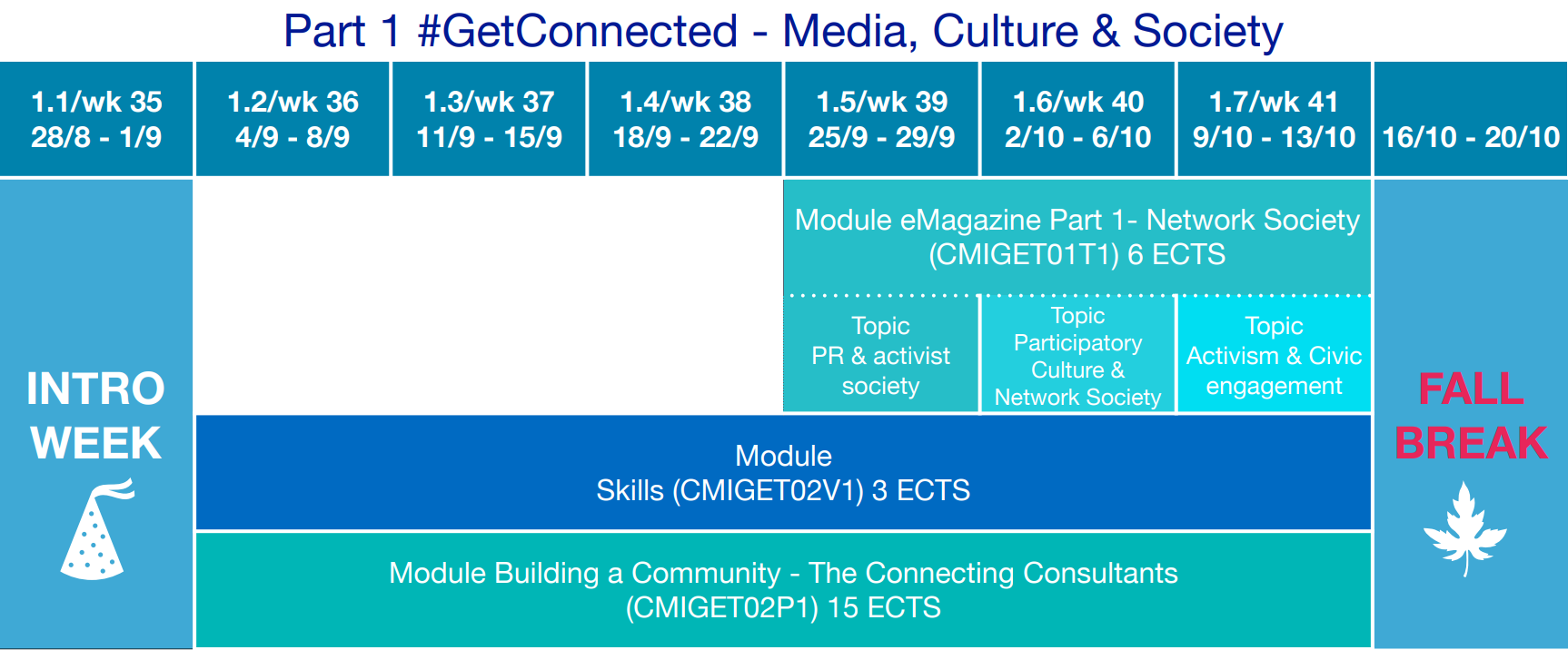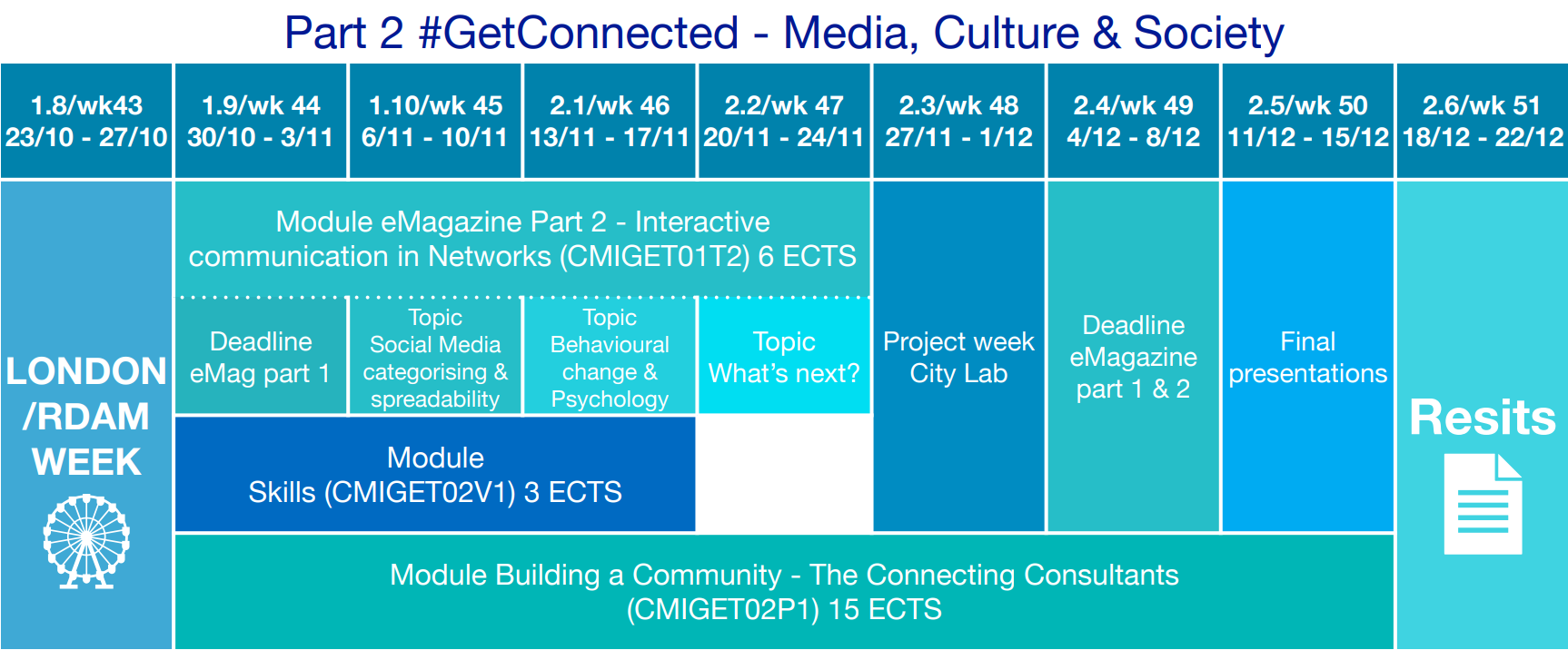 Awarding
After completing your exchange programme at Rotterdam University of Applied Sciences, you will receive a:
Modules
An indication of the modules you can expect
Practical matters
What you need to know
Location
Where you can find us


Wijnhaven 107
Wijnhaven 107
3011 WN Rotterdam