Executive Board
S.Y. (Sarah) Wilton-Wels MBA
Executive Board - Chair
Executive Assistant: Helen Hulspas – 31 (0)107944505

Biography
Sarah Wilton-Wels is the new Chair of the Executive Board of Rotterdam University of Applied Sciences, having been appointed on 1 September 2023. She holds a bachelor's degree from Stenden Hotel Management College, a Master from Radboud University in Nijmegen, and has also successfully completed a post-master's Executive MBA at the Rotterdam School of Management.
She started her career in the financial sector with two long periods of service at the ING Bank and at the ABN AMRO Bank. In 2018, she switched sectors and started working in higher education. To highlight two positions, she was Director of Erasmus School of Economics, Erasmus University in Rotterdam, and since 2020 was a member of the board at Avans University of Applied Sciences.
Sarah lives in Rotterdam with her family.
W.E. (Wijnand) van den Brink, MA
Member of the Executive Board
Executive Assistant: Marjolein Bakker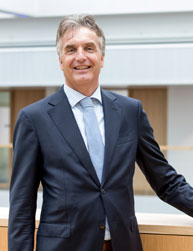 Biography
Wijnand van den Brink joined the Rotterdam University of Applied Sciences' Executive Board on 1 October 2017. After obtaining his propaedeutic in higher economic and management education, and obtaining his grade one teaching qualification for Political Economy & Statistics, he graduated with a Master Educational Management.
After having worked for several years at the Employee Insurance Agency, he made a transition to working in the educational sector in 1989. He started his career in education working as a lecturer at Albeda Rotterdam. In this period he wrote two study books for the study programme International Wholesale Trade. Since 1999, Wijnand van den Brink has been employed at Rotterdam University of Applied Sciences, first as a lecturer of Economics, and from 2000 as a Course Director at the study programme Business Economics. In 2004 he was appointed Dean of the School of Financial Management, and from 2011 he was active as Dean of the School of Built Environment.
Secretary
The roles of the Executive Secretary and the Secretary of the Supervisory Board are fulfilled by Salima Ahajjam, Theo Monfils en Margit Terpstra.