Executive Board
Mr M.J.G. (Ron) Bormans M.A.
Executive Board - Chair
Executive Assistant: Helen Hulspas

Biography
Ron Bormans is President of the Rotterdam University of Applied Sciences. He was appointed 1 September 2012.
He graduated in Political Science with honours from Radboud University, Faculty of Social Sciences, specialising in Public Administration. Ron Bormans worked for the Ministry of Education, Culture and Science as Deputy Director of Higher Education and as Chief Executive of Student Finance. He was a member of the Executive Board of the Universities of Applied Sciences in Amsterdam and Arnhem/Nijmegen, at the latter he became President in 2008. In addition he was a member of the Committee on the Future Sustainability of the Dutch Higher Education System which was established by the Minister of Education, Culture and Science.
Drs. Z. (Zakia) Guernina
Executive Board - Member
Executive Assistant: Esther de Rooy

Biography
Zakia Guernina joined the Executive Board of Rotterdam University of Applied Sciences on 1 September 2018. She obtained her Master Information Management at Tilburg University, specialising in public administration and governance. After which she obtained her postgraduate degree Register Electronic Data Processing Auditing at VU Amsterdam.
She has been employed nationally and internationally for PricewaterhouseCoopers (PWC), IBM Global Services, Boer & Croon and through her own consultancy. Throughout twenty years she has gained extensive experience at these organisations in the fields of organisational strategy, change management, digitalisation and management of various businesses and institutions in both the profit and non-profit sector. In addition, she has gained management experience for fifteen years as member of several Advisory boards and Supervisory Councils, for example for eight years at the University of Applied Sciences Utrecht, and as Vice Chairman of the Supervisory Board at the Dutch Council for Refugees.
W.E. (Wijnand) van den Brink, MA
Member of the Executive Board
Executive Assistant: Marjolein Bakker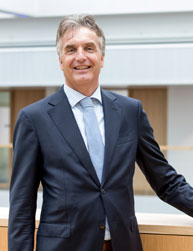 Biography
Wijnand van den Brink joined the Rotterdam University of Applied Sciences' Executive Board on 1 October 2017. After obtaining his propaedeutic in higher economic and management education, and obtaining his grade one teaching qualification for Political Economy & Statistics, he graduated with a Master Educational Management.
After having worked for several years at the Employee Insurance Agency, he made a transition to working in the educational sector in 1989. He started his career in education working as a lecturer at Albeda Rotterdam. In this period he wrote two study books for the study programme International Wholesale Trade. Since 1999, Wijnand van den Brink has been employed at Rotterdam University of Applied Sciences, first as a lecturer of Economics, and from 2000 as a Course Director at the study programme Business Economics. In 2004 he was appointed Dean of the School of Financial Management, and from 2011 he was active as Dean of the School of Built Environment.
Secretary
The roles of the Executive Secretary and the Secretary of the Supervisory Board are fulfilled by Annelotte Dijkman, Metten Knüppe and Roland van Wageningen.