Release
The awards ceremony was a fitting end for everyone who had spent the week working or competing with enthusiasm and total commitment. This applied to both the participating teams and the organisers. End-responsible organisor Hans van Oudheusden said: "A lot is involved organising this competition. Communication, logistics, ICT etcetera. The enthusiasm of the whole organising team was enormous. As the project progressed the commitment only grew bigger."
Unique Rotterdam cases
The organisors of the Rotterdam University of Applied Sciences wanted to do well and produce good Rotterdam cases. Case writer and lecturer at the school, Arnold Bohl: "We wanted good cases, not too simple, real issues of the moment. We did a lot of research. In the end it was BAM, the Rotterdam Library, Avecatorce and Huntsman who had the complex challenges on various subjects. For example, cost reduction combined with CO2 reduction. In total we spent 15 months on this."
Key-note speaker Miranda Aleman of Huntsman complimented the complexity of the cases and how well the participants reacted to this: "The current generation has grown up with the computer and internet and they know how to get the best out of it, using the increasing diversity of their backgrounds. Older generations kept knowledge to themselves, the current generation wants to share it. Knowledge is power!"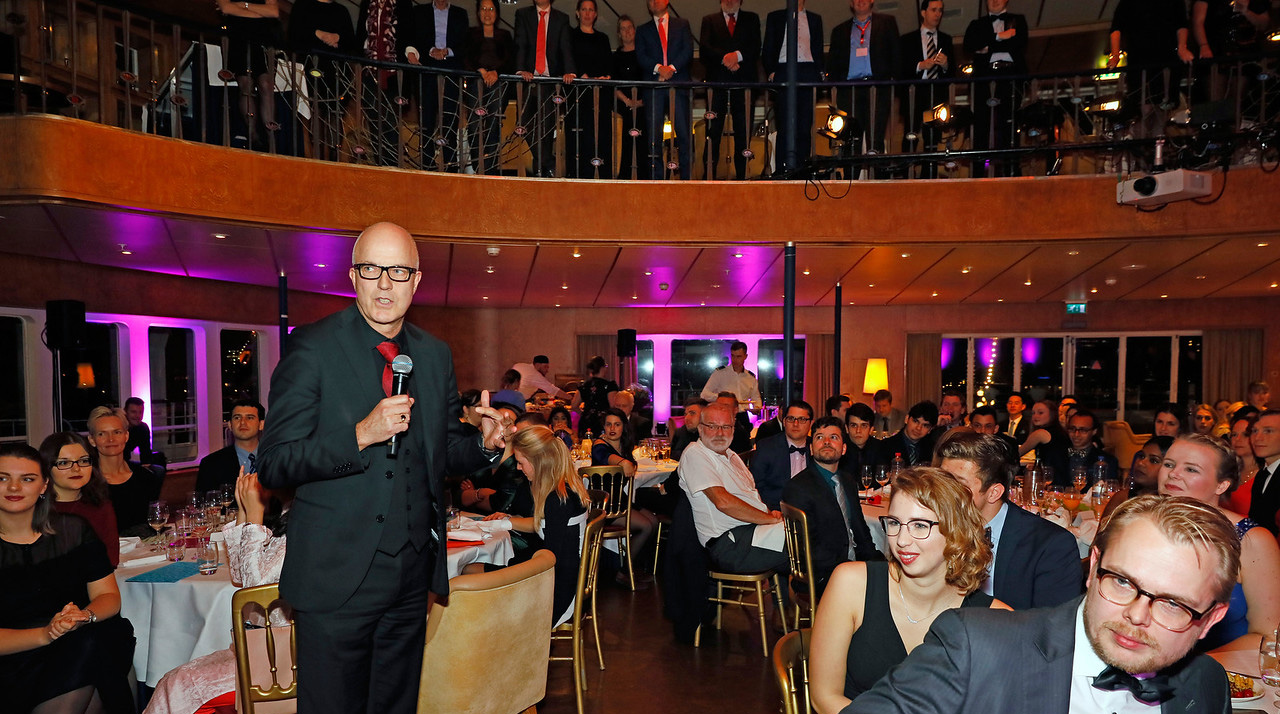 Speech Ron Bormans
Compliments
Ron Bormans was a proud President of the school, and very satisfied about the competition. "Hans had this idea three years ago. Now, people have ideas all the time, but this was really something. Why? It was not just a concept, but it seems to be a model for later." Everyone deserves a compliment. "The coaches were great, the jury gave good feedback and the companies had very good cases! Hans is also a great organisor, and one of the nicest people."
And the winner is…
Time for the awards. Of the sixteen participating teams, the last four were from Canada, Thailand and Ireland. The Rotterdam University of Applied Sciences team was eliminated in the first round. The Danish team from International Business Academy, Kolding was voted Most Spirited Team. Hanna van Velzen of the Erasmus Universiteit (Rotterdam School of Management) and Dachpadung Wong of the Thai Thammasat University received the Best Presenter award.
The most inspiring team
Finally Angelien Sanderman and jury chair Jan Oostdijk presented the awards for the best four teams. Fourth came the Canadian team from Bishop's University, bronze was for the Thai team Thammasat thanks to 'perfect collaboration and presentation'. It must be stated that it was very difficult choosing places four through two. Who would be winner was not a given either. "Both teams represented their stakeholders really well." But only one can win, and it was Concordia University from Montreal. They received the prize from Angelien and Leen Wendels. The team from Dublin received the silver.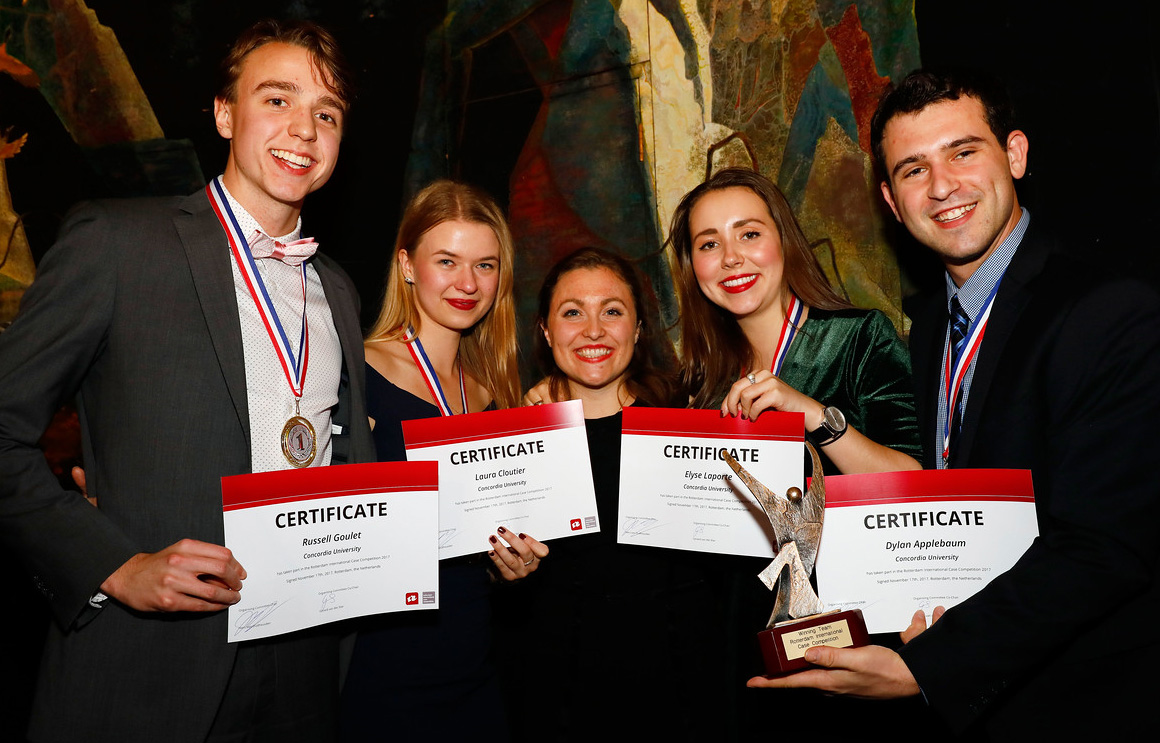 The winning team
"This is the reason for working in education!", Hans van Oudheusden, RICC Organisor
Hans is happy and is proud to look back on the week. "Day 1 and 3 are the most difficult of the competition week. Day 1 because it is new, day 3 because it is double case day is. It is just like a military operation, and the prep work is the most important. "Special attention goes to co-initiator Gerard van der Star who could sadly not be present. "Without Gerard we would not have had this competition. He is the creative brain, I am more of an organisor. It has been intense. We would want to do it again, but with a bigger team for the organisation."
Rotterdam University of Applied Sciences team
Could a Rotterdam University of Applied Sciences team win? "Sure, but with some changes. You need a multidisciplinary team. Right now there so many different study programmes who operate side by side instead collaborating well. This makes it difficult to put a team together. With good students in the right setting, we should be able to win. And we have to start earlier. Our team did well this week. You are competing with the cream of the crop of universities from the whole world." The participating companies gave positive feedback about RICC. "A BAM employee just said he would like to help with training the teams. They are very involved. This is the reason for working in education."