It was hot last Thursday in Blue City, the former tropical swimming pool on the Maas boulevard and now a hub for sustainable businesses. This special space turned out to be an excellent setting for the SDG Challenge for higher education students. It is precisely the creativity and ideas of students that can contribute towards achieving the Sustainable Development Goals (SDGs). This competition creates collaboration among young people, businesses, and educational institutions.
"In the SDG Challenge, I met students from other universities of applied sciences and other fields of study such as Logistics, Engineering and Fashion. How they view the case is sometimes surprising, says Minh-Chau Ngo, fourth-year Supply Chain Management. Our client was Soestdijk Palace. A 300-year-old palace, how sustainable do you think that is? Our assignment was to design guidelines to increase sustainability, for example, how to ensure that you only work with sustainable suppliers and products. The palace must be preserved for future generations, but in a sustainable way. We came up with short and long-term solutions to the issue."
Team Soestdijk Palace, on the right Minh-Chau Ngo (text continues after the photo)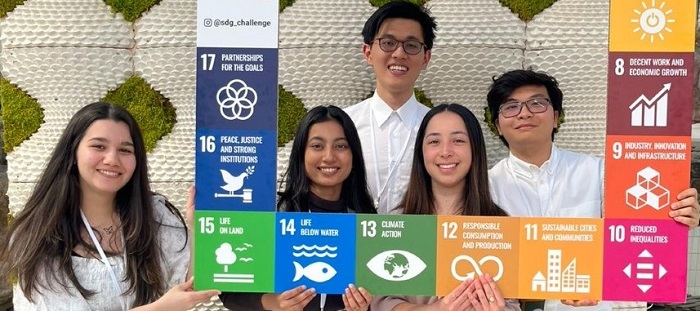 Historical context, new and sustainable interior
"Soestdijk Palace used to be home to the royal family, but it will become an 'SDG House'. Visitors can still view the palace, only interior will be a sustainable one. An example of how sustainability can be put into practice and where you can observe ways to achieve the Sustainable Development Goals."
"To create our plan, we were allowed everywhere where ordinary visitors are not allowed to go. All our knowledge comes in handy. For example, a student of Fashion and Design knows a lot about fabrics. Which materials you can (re)use and are easy to care for? Because we want the building to remain in its original historical context, but we want to use energy and raw materials more sparingly and think carefully about how to organise the business process."
"Why am I participating in the SDG Challenge? I want to broaden my skills by working on an assignment that is not directly in my own field. In the SDG Challenge, multidisciplinary student teams work on assignments from existing companies, where the challenge is to reduce the impact on the world as much as possible. Sustainability has always interested me, just like innovation, AI and blockchain. I find it extremely interesting how to use these. I think it's a great opportunity to be able to participate in this challenge and to help implement the development goals for such a special building", says Minh-Chau.
Caring for lower income people
Third-year International Business student Emma Molenaar also enjoyed looking back on the challenge. With her team, which included students from Avans and Zuyd Universities of Applied Sciences, she worked on a case for VGZ. "The health insurer wants to offer good and affordable care but is aware of growing inequality which makes it more difficult for people with low incomes to find good care. That is why VGZ wants to create more awareness, knowledge, and skills among its own employees about the group of people with low incomes and the problems they often encounter.
Team VGZ, on the right Emma Molenaar (text continues after the photo)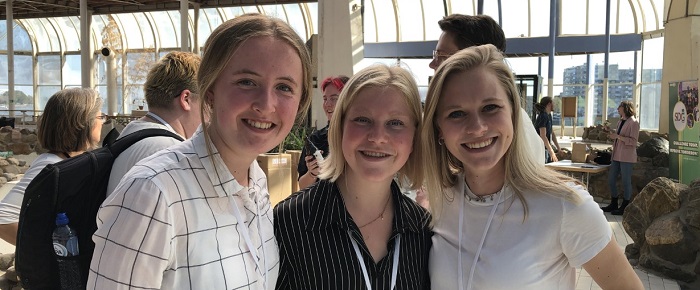 We devised an 'Experience week', in which employees get to know and work with this target group in an interactive and creative way so that they can offer them better service. Because it is an active form of work, their experiences will hopefully have a better impact."
"I found participating in the project a valuable experience. We were really taken seriously by the client, and they hosted us in their beautiful building in Arnhem, with all kinds of facilities for hybrid working. If you get to know different companies during your time as a student, you can get a better idea of where you would like to work later on. It is also good for my CV and for my English, because we had to do several presentations in English. This is only logical when studying International Business, but not so obvious for some of my teammates. It was difficult to meet each other with our different schedules. And then we had quite a few deadlines to meet. But it was also great to realise that when you think of a solution, you immediately dive into your own field and then notice that others have a completely different perspective."
About the SDG Challenge
Students are challenged to find solutions to sustainability issues for businesses. The 17 SDG goals should ensure a more liveable world in 2030 by tackling, among other things, poverty, and the climate crisis and by ensuring, for example, accessibility of education and health care. The Association of Universities of Applied Sciences, SDG Netherlands and youth campaign agency Soapbox are organising the SDG Challenge.